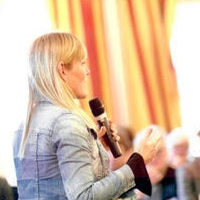 Elles Kazemier
FL Trainer/Senior Lecturer Professional Development
Elles is a senior lecturer Professional development at HUAS, Groningen and an expert in innovative curriculum design and faculty development.
She focuses on professional, hybrid, learning environments, on faculty development and always on the lookout for possibilities to enhance co-creative learning and interdisciplinary problem solving. In addition to her work on Futures Literacy, she works as a coach in one of Hanze's research and knowledge centres, a member of the research group Learning in Heterogene groups, a trainer in COL's.
Previously she codesigned, conducted and researched the in service training A teachers road to excellence for honours teaching. She worked as a trainer and assessor of the Basic Didactics programs at Hanze for 5 years.